Custom Logo Printed Handle Pillow Paper box
Model No.

pillow box
Put everything in! paper box! Gift, Shopping paper box!
Spec
Key Features
*Top quality products
*Professional sales and customer service
*Full customization of any product color, design layout, and finishing
*14 years of experience in printing and packaging
*Manufacturing straight from factory
*Top of the line manufacturing equipment
*Made in Taiwan with quality manufacturing standards
Custom Logo Printed Handle Pillow Paper box
Art paper
The texture, color, and tangibility are some of the many features of art paper. Expressing style and individuality on its own, and doesn't require any additional work. Used in shopping malls, department stores, and boutiques where need represent an unparalleled feeling of luxury for the user.
Folding Box Board (FBB)
FBB Folding box board is a multi-ply board. A layer, or layers, made of mechanical pulp is placed between layers of chemical pulp.


Solid Bleached Sulphate (SBS)
SBSSolid Bleached Sulphate (SBS) is made exclusively from bleached chemical pulp. It usually has a coated top surface and some grades are also coated on the reverse side.
Syncmen Enterprise Corporation as a professional paper bags manufacturer in Taiwan.
We make all types of paper bags and specialize in custom paper carriers and environmentally friendly paper products to promote a clearer environment on earth such as: stone paper (paper bag, notebook and memo), FSC® accredited paper bags and paper boxes. Besides, we also have many years experience of exporting to Europe, USA, Canada, Australia and New Zealand.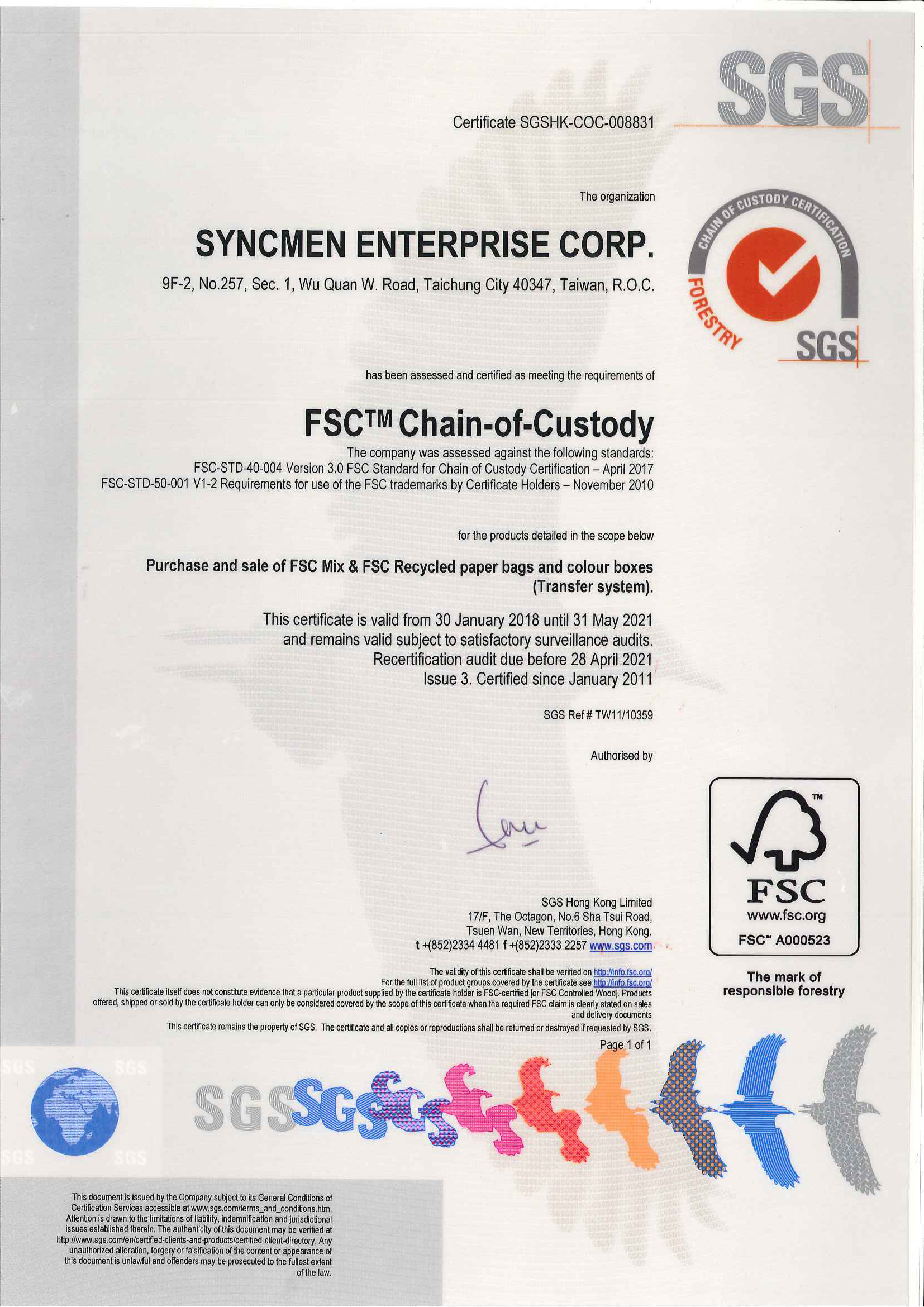 We can ship your goods by sea, by air or courier according to your request.
In usually, we will suggest you to choose by sea and urgent case by air as the air freight is expensive.

Welcome to contact us and get your own paper bags.
---
Recommendations
---
Small Order Recommendation