High Quality Folding TEA Packaging Paper Box With Window
Model No.

paperbox03

Made in

Taiwan
Welcome to get your own bag & box!!
Spec
Key Features
*Top quality products
*Professional sales and customer service
*Full customization of any product color, design layout, and finishing
*14 years of experience in printing and packaging
*Manufacturing straight from factory
*Top of the line manufacturing equipment
*Made in Taiwan with quality manufacturing standards
High Quality Folding TEA Packaging Paper Box With Window
Solid Bleached Sulphate (SBS)
SBSSolid Bleached Sulphate (SBS) is made exclusively from bleached chemical pulp. It usually has a coated top surface and some grades are also coated on the reverse side. This is a medium density board with printing properties that meet the high requirements of graphical and packaging products. SBS can be die cut, creased, hot foil stamped and embossed with ease. It therefore gives wide scope for advanced structural and surface designs. It is pure and hygienic and is therefore suitable for the packaging of aroma and flavour sensitive products.
The surface brightness is 90 % ISO – top surface roughness is less than 1.2 microns PPS – Hunter Gloss of top surface more than 75 %
SBS– Available in 200 to 600 GSM – Suitable for all types of Printing Process – Considered as premium grades for packaging and graphical purposes – Suitable for packing aroma and flavor sensitive products – In general SBS are superior when purity good appearance and runnability of the packaging material are required.
Syncmen Enterprise Corporation as a professional paper bags manufacturer in Taiwan.
We make all types of paper bags and specialize in custom paper carriers and environmentally friendly paper products to promote a clearer environment on earth such as: stone paper (paper bag, notebook and memo), FSC® accredited paper bags and paper boxes. Besides, we also have many years experience of exporting to Europe, USA, Canada, Australia and New Zealand.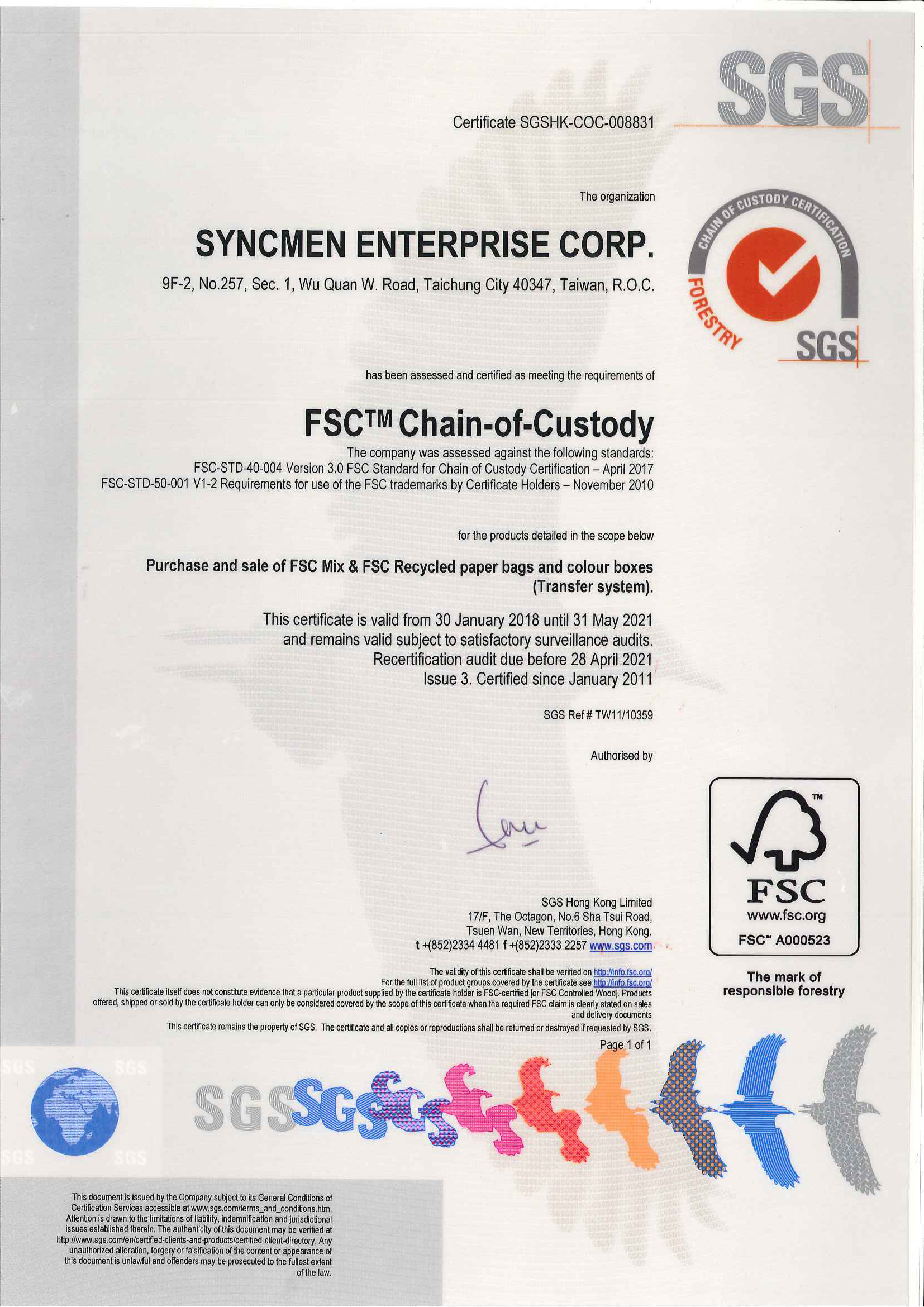 We can ship your goods by sea, by air or courier according to your request.
In usually, we will suggest you to choose by sea and urgent case by air as the air freight is expensive.

Welcome to contact us and get your own paper bags.
Main Export Market
AFRICA ,ASIA ,AUSTRALASIA ,C-AMERICA ,EUROPE ,MID-EAST ,N-AMERICA ,OTHER ,S-AMERICA
---
Recommendations
---
Small Order Recommendation